Hi there! 🙂 I asked a few of my amazing flawless members to share their reviews and testimonials of The Flawless Program.
I hope their stories can inspire you to clear your skin from within!
Here are some reviews from people who used The Flawless Program.
---
By Lynn
Hi Christina, I used your program in 2015 and it changed my life! I am so grateful to you and i just wanted to let you know I wrote down my success story on my blog here.

Thank you, I am forever grateful!
---
By Chris Colson
Hello Christina, your food recommendations, particularly the heads-up about histamine triggers, informed me of my own sensitivities to those foods. The recipes are tasty, and I still incorporate them into our weekly menu. The facts about vegetables, your links to educating ourselves about high and low glycemic; digestibility levels of each, were extremely helpful as they allowed me to shape my menu based on solid information about potential triggers.

The way you point towards a bigger picture of what seems to be an isolated body 'malfunction', along with the How-To's, and pitfalls, works for me. I wish you all the success in the world, and thank you, gratefully so, for putting together an easily comprehensible "Blueprint", for each of us to build 'our own' understanding of how illness/disease/body messages work.

I have enclosed some photos. The first photo at height of inflammation when I started the Plan and the others are after.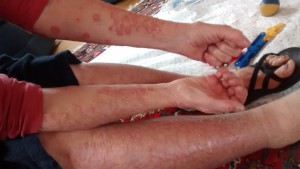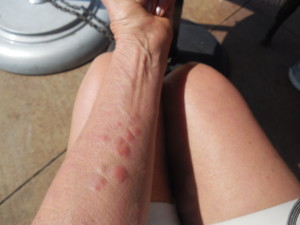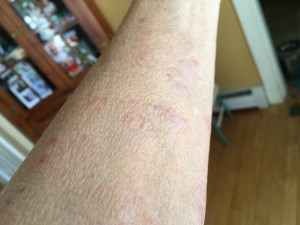 ---
By Nur
Hello Christina, I really thank you for creating such a meaningful program for all eczema sufferers all around the world.

I never felt this happy and free since I had eczema until today I can see my underneath skin is totally healthy and waiting to clear those eczema scars …

I have enjoyed all eczema triggers food again and I am okay with them . No flare up! Thank You so much Christina. 🙂
---
By Saijal
Hi Christina, I am still following the diet but have introduced a few things slowly such as gluten and giving myself treats now and again ? . My skin is improving slowly as it is not as itchy and inflamed anymore. It is really starting to heal and is not as dry either. Since there is quite a lot of long term damage the skin is still wrinkly and patchy in areas but it's still significantly better. Below are photos of my neck and hands before/after the program. As you can see there is much improvement. My hands are clearest they have been in ages ?. I will continue the diet as I realise this will be a long term lifestyle change. I am so grateful I came across you Christina. Thank you !!!!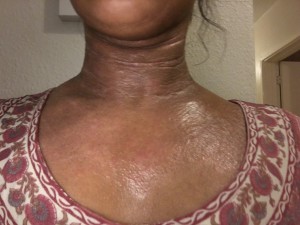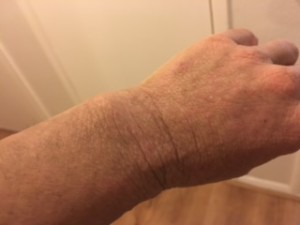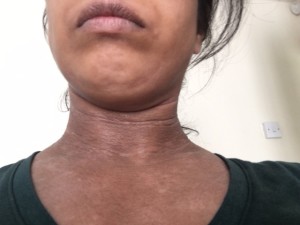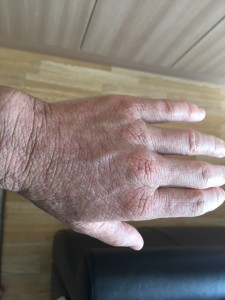 ---
By Anizah
Hi Christina, I actually bought the program to help my 19 yr old daughter. She followed the program very diligently, avoiding all the triggers, eating clean and taking the supplements as you've suggested.

The results is incredible! It has been almost 4 months now and her eczema patches on her elbows, legs and neck has healed a lot…not completely yet because the skin is still a little dry and dark coloured and not the normal skin colour. The itch has gone and the skin is no longer hard and scaly. The best thing is even her many pimples on her face has cleared.

I'm so glad I found your program. In fact i'm now also start going gluten and dairy free abd taking supplements. I find my usual tummy bloatedness and my sinusitis has disappeared. I'm 50 years old and i never feel so good as before.
Thanks you so much Christina. God bless you.
---
By Gina
Hi Christina, My eczema is 100% gone!!
No sugar, no dairy, no wheat, plus strong probiotics everyday = no eczema!! Here are some before and after pictures, I would say it took me 30-days to get results. Thank you!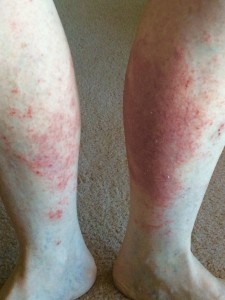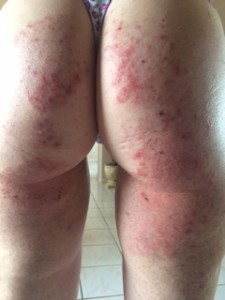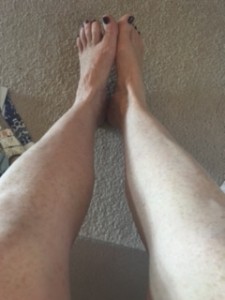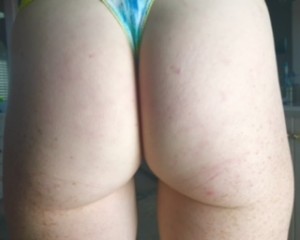 ---
By Ubah
Hi Christina, honestly, since i have been sticking to your advice i have seen major changes with eczema. However, one of the biggest challenges was weeping eczema. I came across your website when searching for a cure for my weeping eczema (which has now stopped ?) because i was very upset and depressed about it since the doctors said it would go away by it self. But clearly it had not and AMAZINGLY i found your website, where i found my cure.

Honestly, your videos are amazing and i would recommend anyone with eczema to follow your program.
---
If you want to start The Flawless Program, join on this page here!
---
By Natasha
Hi Christina,I just wanted to give you an update. I've have severe full body eczema for over a decade and I've been using class 1 steroid creams for 3 years so after a month of this program I still have ways to go but I've noticed significance improvement since when I started- something which I didn't think was possible for me. It's been almost 90 days since I started your program and I've noticed a huge improvement in my full body eczema condition. My face and neck have been clear for the past few weeks (which was one of my most severe areas) and my hands and arms are clearing up. Thank you so much for this program, it's been really helpful and eye opening.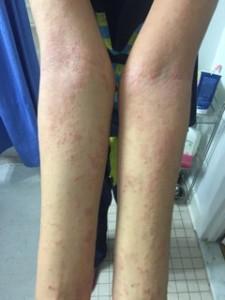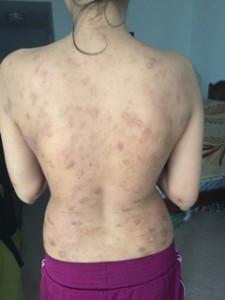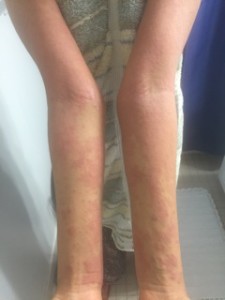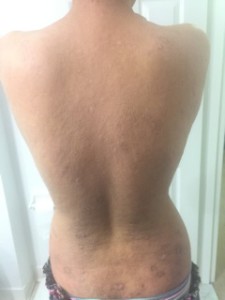 ---
By Renee
Hi Christina, thanks again for your program. I followed the program for about 4 months and my skinned cleared up tremendously. I'd say about 90%. I initially had it on my arms, hands, legs, and back. After your program, only my hands had any sign of eczema. Overall, I enjoyed the program and am happy with the results.
---
By Jessica
Hi I'm doing well. The program has really changed my outlook on food so I'm still sticking to it. The program was really tough in the beginning, but I'm used to it now. I can take showers without irritation and finally get some sleep! Here's a before and after picture of one of my toughest spots. Thanks so much! 🙂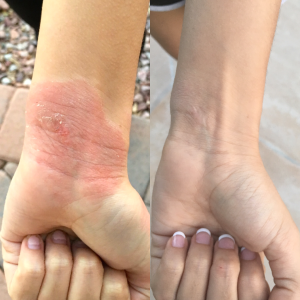 ---
By Will
Hi Christina, just want to say thanks for all the hard work you have put in to this program for all the people who suffer from eczema all around the world, you are truly one in a million with the heart of gold. Seriously you are a bloody legend mate and i love you. It has been about 3 -4 weeks now where for the first time in a about a year and half where my eczema hasn't given me any trouble what so ever, no itching, no redness, no flaking, no dryness no nothing hahaha words can't express how happy i am to be able to say that. I will keep on following the program!
---
By Naval
Hi Christina, I've had eczema from when I was one and it's Atopic dermatitis.
I've used steroid from the beginning even when it was not chronic. The initial one's were of course mild but from nearly 5 years when my eczema got worse and chronic I did use a lot of strong steroids. I was even prescribed an oral steroid last year. I was at a point where I willing to do anything to get rid of it.

After that I had tried so many diet changes but I never had a plan until I came across your Program. I'm totally able to manage without any steroids or antihistamine now. I have this skin routine now to help me manage in a tight schedule. I have literally never felt better. To any person in a similar situation I would just say never believe that this is your fate and you've got to live with it. Just make it an opportunity to transform yourself into a positive and healthy person. Try new things, be patient and never give up. It will happen..you can make it happen!?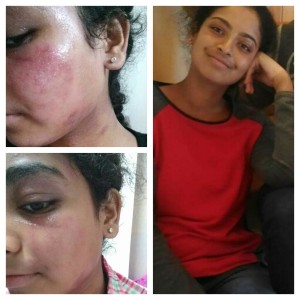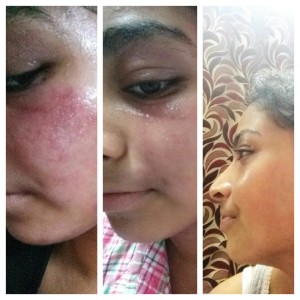 ---
By James
Hi Christina, I'm writing to tell you that my eczema is finally gone! It's been 60 days on the program, and I'm finally able to sleep as the itching has gone down tremendously. It's been so great, I just wanted to thank you for helping me through this with your emails. I don't think I would be able to do it without you.

I would definitely recommend your program to anyone looking for a way to take care of their eczema.
---
By Emily
The first block of pictures was my eczema when it was out of control! A few supplements and some sunshine and it's cleared up, including my scars! So happy with my new skin.

Christina, you are a genius in disguise, your program has helped me out so much in just 3 weeks!
These are just some of the flawless members who are finally getting their skin back! Click here to know more about The Flawless Program.