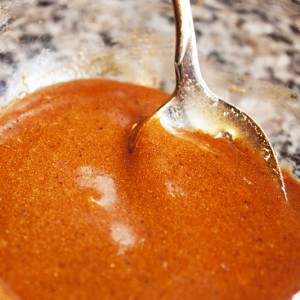 Hey everyone, it's another Flawless Friday post! Today I want to share one of my favorite beauty home regimens to soothe itchy facial eczema, or to get rid of dry skin buildup around your nose, chin and hairline.
It requires only 3 ingredients and takes just 2 minutes to make!
I first started using this eczema facial mask because of the dry skin build-up on my face. As probably most of you can confirm, when you come from a long history of eczema or sensitive skin, dry skin tends to become an issue more often than most.
Why do we have dry skin?
One reason for an excess of dry skin, is that people with a long history of eczema or sensitive skin tend to have an unnatural deficiency of the protective fatty substance that is supposed to naturally waterproof our skin. Because we have less of this fatty substance, our skin tends to get more easily dry, compared to other people who don't have sensitive skin.
Lacking this necessary fatty substance can also cause our skin to become more weather sensitive, as harsh weather conditions can chip at the fatty substance that's supposed to waterproof our skin.
For me, the dry skin buildup especially comes around colder weather or winter, which (unless I can escape to Hawaii—most unlikely) is going to come hit us real soon!
How does dry skin cause eczema?
Dry skin buildup can affect us by causing our skin to become itchy and irritated. If you scratch or itch at the dry skin it can become infected, resulting in flare-ups of red, itching or scaly eczema.
You can be especially affected if you have a diet that is nutritionally lacking, as your body isn't able to repair the infection as fast as it should, which is what usually causes the eczema outbreak to spread and get out of hand.
For example, now that I cleared my eczema by following the 30-day reset program, the dry-skin buildup doesn't affect me as much as it used to in the past. Before when I would scratch at it, it would become infected and spread to infect more areas of my skin.
However, nowadays (after the program) my body is fully healed and is able to properly combat the outside irritations. This means that the dry skin buildup doesn't lead to infected eczema like it used to before.
If anything, I just get a bit of dry skin around my nose and the bottom of my chin—not a huge eczema breakout like in the past. Phew! So there's some great news for those of you on your way to clear skin and gut health! 😀
Can I use this facial mask without eczema?
Currently I'm still eczema-free, but I do use this awesome facial mask from time to time, to prevent my skin from become too dry. Because really, with or without eczema, who doesn't want perfect facial skin?
I use it especially around winter time to get rid of the dry skin buildup around my nose and under my chin. If you have really red inflamed skin it can also help to soothe it, so it won't feel like it's burning or hot.
If you need a soothing facial mask for your eczema, or if you just want to prevent the dry skin buildup around the common areas like your nose, chin and hairline, then this DIY facial mask is for you! 😀
Just note: Even though all these ingredients are 100% natural and considered safe, some people might be more sensitive to the ingredients than others. Always make sure to do a small skin test first, before using it on your face and skin.
---
 DIY Facial Mask for Itchy Eczema and Dry Skin
For best results, follow the two steps. However, if you're running short on time, you can just start with step 2.
Step 1: Steam your skin
What you'll need:
A wide heatproof bowl or a pot filled with boiling hot water.
A facial towel
A timer (I use my iphone)
What you'll need to do:
1) Set your timer to 2 minutes. Now place your face over the bowl, and let the hot steam open your pores. (You really need to have boiling hot water for this.)
2) When the timer rings, take the facial towel and carefully dip it into the hot water. Squeeze the excess water out (careful, it will be hot!) and place the towel over your entire face.
3) Set your timer to 5 minutes. Leave the hot towel over your face. You can gently press the towel to transfer more heat onto the areas that are more eczema affected or dry. (I usually press it around my nose and chin, where I have the most dry skin buildup.)

Step 2: Apply the mask
What you'll need:
A container/bowl
1 tablespoon raw honey (I use Manuka)
1 teaspoon ground nutmeg powder
½ teaspoon Vitamin E oil (or 1 capsule vitamin e)
A timer
About 20 minutes of free time!
What you'll need to do:
1) Mix all ingredients in your bowl or container until it resembles a thick paste.
2) Spread the mixture all over your face, starting with the parts that have the most dry skin buildup or affected eczema.
3) Now set the timer for a minimum of 20 minutes.
4) After, gently rinse off the eczema facial mask with lukewarm water, and pat dry with a soft towel. Don't wipe! It can irritate the skin.
5) Check yourself out in the mirror and enjoy your soft skin!
Here's my skin after doing the two steps.  No longer dry and suuuuper smooth! 😀 Forgive the no makeup/low quality–I just snapped a quick photo after rinsing it off.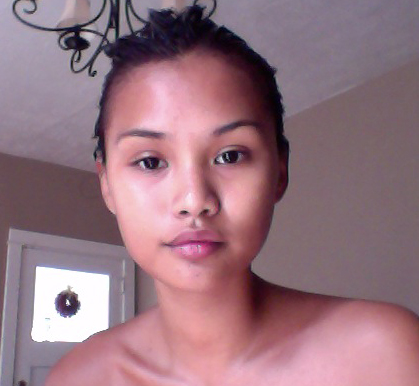 What's in the ingredients?
Nutmeg. Nutmeg has been around for hundreds of years and has been used to soothe skin and even help with digestive issues. The antioxidants in nutmeg make it one of the most powerful anti-inflammatory ingredients you can find, and it can help relieve painful itching from eczema and improve overall facial complexion.
Raw Honey. Raw honey is one of my favorite ingredients that can be applied topically to treat wounds, infections, rashes, abrasions and burns. This is because raw honey has anti-bacterial properties that help fight against fungus and viruses. It's also full of antioxidants, making it super effective when used with nutmeg.
Vitamin E oil. Vitamin E is commonly found in a lot of skin lotions and moisturizers because it's a strong antioxidant that is easily absorbed by your skin. This makes it ideal for dry skin buildup, irritated skin and eczema or acne scars.
Skin tips:
– If you have inflamed eczema, you might be irritated with steaming your skin. If this is the case, just skip to the facial mask.
– If you have inflamed eczema on your neck, you might benefit from using this mask, but just test it out first.
– Some people may react to the nutmeg. Always test a portion on your skin first, before using it everywhere completely.
– If you don't have vitamin E, you can use raw coconut oil instead.
– If you don't have Manuka honey, you can use any raw or organic honey.
– If you have an unhealthy immune system, you may still suffer from eczema flares even after using this facial mask. Consider looking into the root cause of dry skin and eczema to get rid of it permanently. (Like I talk about here.)
---
Do you suffer from eczema flares on your skin? What do you use to remove dry skin buildup? If you used this for your eczema, did it help? Let me know, I'd love to hear from you! 😀
Have a great weekend!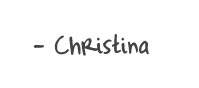 PS: Don't know where to start? Sign up to my free series The Clear Skin Plan !