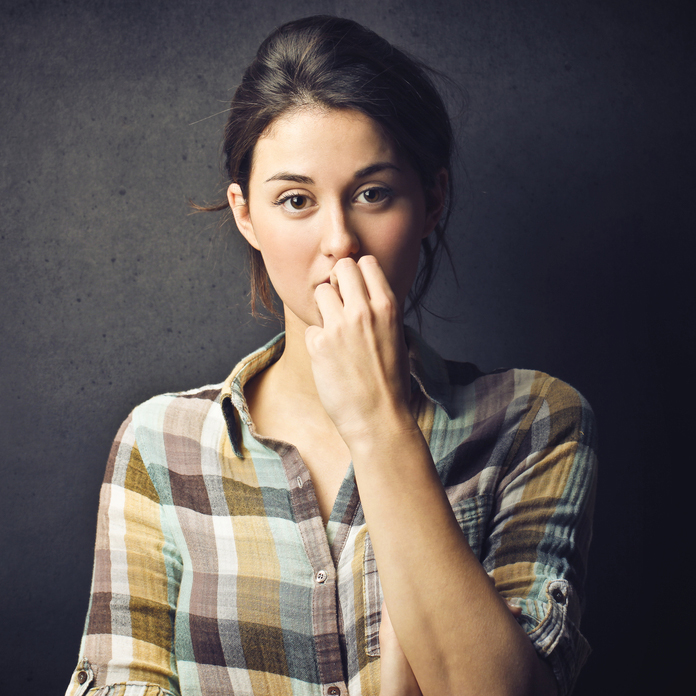 Hey everyone! Today I want to talk about something I've actually been meaning to write about for a long time. Hopefully this can help you in making an informed decision, along with over 100 million other women who take the pill every year.
Before we get started, let me make this clear. I'm not stating that you shouldn't take oral contraceptives EVER, but I do want to give you some information that you should take into consideration before going on the pill. I am all for full disclosures, and personally I believe you should always be well-informed before putting something foreign into your body.
Also, this article is for those of you who are already starting to take advanced steps to heal your gut and immune system, but are still having trouble with eczema. If you aren't one of these people, then I would suggest FIRST looking into your gut health before considering the pill as a trigger for eczema. 🙂
That all being said, the pill is a funny thing. I'm sure I'm not the only one who has heard that the pill makes your skin better, or that it improves facial acne. But what do oral contraceptives REALLY do to your body? Let's take a look at the pill a little closer, to help you understand the pros and cons fully.
How oral contraceptives work for acne
"The pill really cleared my skin and acne!"

Ever seen that statement before? Well you're not the only one. I want to quickly address acne, because some people can confuse acne and eczema as the same thing—when in fact they are NOT. I'll talk more about that in detail later, but first here's the quick scoop on how the pill works for acne:
Now as most of us women know, there's a very clear relationship between hormones and acne. Whether you experience the premenstrual break-out or the menstrual breakout, or heck even the post-menstrual breakout, from your teenage years onwards, you pretty much know that acne and pimples have something to do with "that time of the month".
But why?
Well there's actually two parts of this process, so first let's begin with what goes on normally:
Woman's ovaries and adrenal glands usually produce a low level of hormones called androgens. Androgens are a group of hormones that include testosterone, but more importantly, androgens stimulate your skin to produce an oil called sebum. This sebum oil, created by the androgen hormones, is created for the purpose of keeping your skin hydrated. I'll talk more about this in another post, but contrary to what most people think, normal amounts of sebum oil are actually good for your skin, as it's one of the ways the body naturally keeps moisturized.
The problem, however, lies in phase two:
At certain times, and especially around the time of the menstrual cycle, a woman's body produces higher levels of androgens. These high levels of androgens then create excess amounts of sebum oil, which trigger acne. While normal amounts of sebum oil are okay, an excess amount can clog pores and promote the growth of bacteria that contribute to acne breakouts.
If we put this all in an equation it would be something like this:
Excess androgens = too much sebum production = clogged pores/bacterial growth = acne breakouts!
So how does the pill work in all of this?
Oral contraceptives contain hormones (estrogen and progesterone) that along with preventing fertilization, lower the amount of androgens in your body. If you look at the equation above and remove the first factor, "excess androgens", you would be left with……well nothing! Because the pill blocks excess androgens, you don't have too much sebum production, or clogged pores/bacterial growth, which in theory should result in no more acne breakouts.
This logic is why for decades, dermatologists have been prescribing the pill to help treat acne in women, and currently, there are even 3 FDA approved pills specifically for acne: Ortho Tri-Clclen, Estrostep, and YAZ.
Well that's the brief explanation of how the pill is technically used for acne breakouts—but now let's go on to eczema. Can the pill also be used to lessen eczema breakouts, or is actually more damaging?
Oral contraceptives and eczema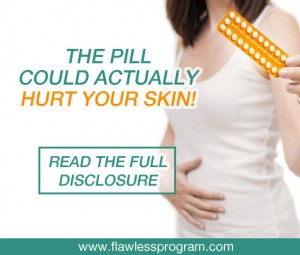 Like I mentioned before, acne and eczema are NOT exactly the same, and differ mainly in the fact that eczema isn't caused by an excess of sebum oil, but rather is an immune reaction caused by a poor gut and immune system. (Hence, the purpose of the pill to lessen sebum oil wouldn't really work in the case of eczema.)
If you've been following my previous posts on gut health, then you should know by now that the most effective way to permanently heal your eczema is to eliminate the inflammation in your body.
Now inflammation commonly comes through foods, but studies have shown that it can also come through certain medications like antibiotics, antacaids, steroids, and oral contraceptives.
That's right, while oral contraceptives might temporarily help ACNE problems, they can actually cause ECZEMA breakouts because of the inflammation they create in our body.
How the pill can trigger acne and eczema
It's kind of a catch-22. You could use the pill to temporarily control your acne, but in doing so, you increase the chances of breaking out in eczema.
Another thing to mention is that just because you use the pill, doesn't mean you'll get rid of your acne.
Aside from an excess of sebum oil, compelling medical research has shown that acne is strongly linked to an unhealthy gut and immune system, and that acne break-outs can occur when the body has high amounts of inflammation.
This means that if you wanted to get rid of your acne for good, the pill wouldn't be a good permanent solution, since it also causes inflammation.
I talk more about oral contraceptives in my program, but studies have shown that the pill can deplete essential nutrients in our body, leading to levels of inflammation which can damage our gut flora. By causing damage to our gut flora, oral contraceptives cause an bacterial imbalance, that leads to health problems.
This inflammation can hurt your gut lining, weaken your overall immune system, and very well undo any progress you've been trying to make to heal your eczema or acne. It can also cause an overgrowth of bad bacteria, which is why some women might experience blood clots, yeast or bacterial infections while on the pill.
In short this means that no matter how much good nutrients and food you are putting into your body, you could potentially be slowing down your eczema or acne healing process by taking the pill.
Should I take the pill or not?
As I mentioned in the beginning, whether or not you take the pill is really up to you, and what stage you are in in the gut-healing process. My goal in writing all of this, is to allow you to have the full awareness of what the pill does to your gut, so that you can avoid potentially sabotaging your skin healing progress!
My personal experience? When I first started changing my diet, eating better, lessening inflammation, etc.: I saw some progress on my skin: but things didn't 100% get better.
I decided to stop taking the pill to see if it would help things, and that's when I finally made HUGE strides of progress. My skin wasn't as wet or inflamed, and my eczema disappeared within weeks! For me, it was one of the last things I needed to quit to see total progress.
(Update: 3 months later, I tried to start taking the pill again, but my skin flared up in the first week! I realize my body negatively reacts to the pill, and now I'm off it for good. )
There are arguments saying that the pill's effects vary from person to person, (depending on age, how long you've been using it, whether or not you have a healthy gut, etc.), and while these are factors, it's worth listening to your body first and foremost.
Are you doing everything nutritionally possible to heal your body, gut and skin, but still not seeing progress? If your answer is yes, then I think the pill is something worth looking into.
Well, that's all for now. 🙂 I hope this was insightful in helping you make the right choice for your body. While every one is different, the pill is definitely an eczema trigger to consider.
---
Let me know what you think, ladies! Are you on the pill and do you have eczema? Leave me a reply below!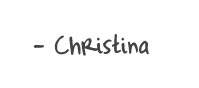 PS: Don't know where to start? Sign up to my free series The Clear Skin Plan !